ID Tracking Systems

Track & Credential

and beyond ....
Your traditional Photo ID provides you with visual identification only, if you are looking for something more than just visual Identification. Dactek's Tracking Systems are for you. Our Tracking software allows you to track personnel in a variety of ways using a photo ID as the trigger to multiple applications.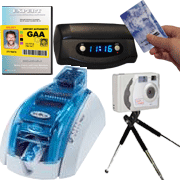 Our Tracking Systems combines photo id, schedule activity and personnel credential data offer you a effective solution to track your personnel attendance and whereabouts.
Systems can be configured to be under these environments: a) IP connected data collection devices throughout company network, b) PDA, hand-held mobile computer, for mobility. Our Tracking Software is designed to work with your existing photo ID systems or any existing database* contains personnel records.
Support Barcode, Magnetic stripe, Proximity cards, HID cards and Biometric-Fingerprint.
ID Tracking Systems

Applications

Photo ID Software
ID Card Printer
Barcode/Magnetic/Proximity
Biometric Fingerprint
Data Collection Device
IP / RS485 network
Personnel Database
ID Tracking Software
PC with Windows
Hand-Help PDA
Guard station computer
Interactive Data Collection

Remote Location for Check in / out
Job site Security
Construction yard security
Gate Guard Station
School Class Attendance Reporting
Special Events and Activity
Emergency Staging Task Time Tracking
Track Meal Taken & Reporting
Conference Attendance
Trade Show Ticketed Traffic Monitoring
Customer Visiting Reports

Tel: 1 (714) 705-4123
*most of personnel database, please contact us for compatibilities.